From October to November, I spent five weeks in Europe.  Since I took thousands of photos while I travel, I decide to put them together with a short write-up on a particular day.  The log is not meant to be comprehensive or profound.  Rather, it is a vignette of something that happened that day.  I don't know how many I would do but it is definitely an on-going project.
European Travelog 2019-11-05            Vatican City: How much could it be?
After spending some time at the majestic St. Peter's Basilica, my friends and I walked over to the massive Vatican Museum. Although the actual distance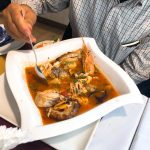 between the basilica and the museum is quite short, unless you are part of a tour group, visitors have to take a 20-minute detour to get from the St. Peter's Square to the entrance to the museum. Since we had purchased the tickets for the museum online and we had about an hour to spare, we decided to have a quick bite at the Caffè Vaticano, which is conveniently located right across the entrance to the museum.
After we were seated, a waiter came over and took our order.
"I would like a bowl vegetable soup please." My friend W told the waiter.
"We just ran out of vegetable soup; how about seafood soup?" He answered nonchalantly.
"Okay. Seafood soup then."
After the waiter left us, I told W that a seafood soup was going to cost him more than €10, the price listed for a vegetable soup on the menu.
"How much could it be?" W retorted.
"€25". He wife M said.
"It can't be that much, I would say €18." I chimed in.
Along with the pasta that I ordered, the seafood soup arrived fairly quickly. The soup was more like a bouillabaisse with a rich broth, a good chunk of fish, a couple of shrimps, and some clams. We gobbled down our lunch and then asked the waiter for our bill.
We couldn't stop laughing when we were presented with the bill. We laughed because we were in a state of disbelief. The not-on-the-menu bowl of seafood soup was €40. Yup, sixty Canadian dollars for a bowl of soup. I think before the days of social media, tourist scams like this were more common because of transaction was usually one off and the consumers had no recourse. A note to self after this incident is to always check the online reviews of a restaurant. If I had done so, I would have read numerous complaints from unhappy diners about Caffè Vaticano. In fact, if you search the reviews now, you would be able to spot my warning as well.
At the end of our visit to the splendid and exhausting museum, we thought we could take a taxi to return to our hotel. Before we hopped into a cab, a driver calmly informed us that: "this is the Vatican City, we can't use the meter." I thought it was the ultimate irony that we experienced both scams at the home of the Pope.
Photo Albums:
---
---
European Travelog 2019-11-20         Pisa: A Long Way to Go for a Photo 
The distance between the port of Livorno and Pisa is about 25 km and the bus ride took us through some pictorial Tuscan's countryside.  However, if it wasn't for the famous leaning tower, Pisa would probably be just one of the many historic, pleasing but unremarkable sites dotted around Italy.  Alas, because of the Tower, along with thousands of people, I came a long way here for a photo. Obviously, I took more than one photo but it was the "let me hold up the Tower" shot that really mattered.
My side trip from Livorno to the leaning campanile in the Cathedral Square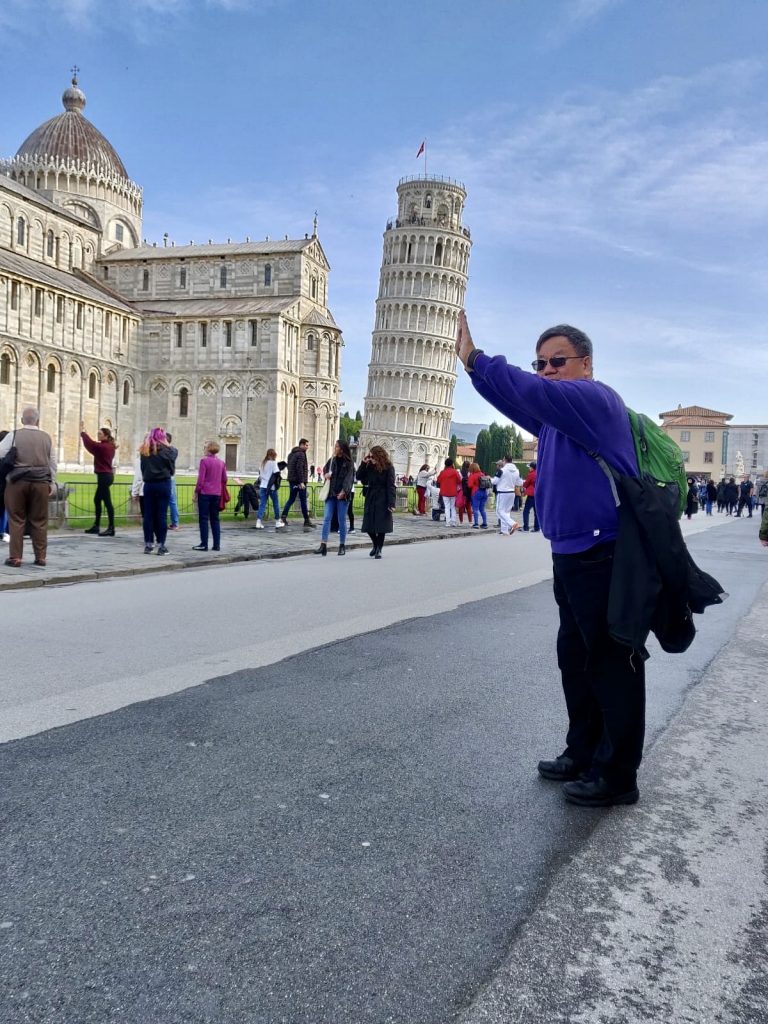 actually began on an unpleasant tone. Just when our bus arrived at a massive parking lot just outside of the old town, I could hear a man giving tensed instructions to his companion:
"Don't talk to them!"
"They don't have visas."
"They are all here illegally."
"REMEMBER, DON'T TALK TO THEM." 
Not just ten minutes ago, I could hear the same man, who sat two rows immediately behind me, exchanging pleasantries with his new found friends across the aisle.  They were comparing notes about the excursions they had been taking in the previous days. They talked about home, family, and their work. All the merriments stopped when he spotted a couple hawkers walking towards the bus with bundles of umbrellas, ponchos, and selfie sticks.  It always baffles me that we could be so quick to render judgement on strangers. I could understand dealing with street peddlers would be annoying at times but a simple "no, thank you" usually means the end of the encounter. Do we really need to demean strangers who are trying to make a living?
One other site stood out on my brief visit to Pisa.  Outside of the Piazza del Duomo where the cathedral, the baptistery, and the leaning tower are located, sits a Jewish Cemetery.  I thought it was rather symbolic that the Jews have to bury their dead outside the "sacred" grounds. I was hoping to pay a visit to the cemetery but alas, the gate was locked.
Photo Albums:
---
---
European Travelog 2019-11-03         Siena: A perfect lunch in a perfect little town
After experiencing firsthand the effects of over tourism in Florence (I am well aware that for being there, I am contributing to the problem), Siena was a welcome respite.  A mere 72 km and slightly over an hour bus ride away, I found myself getting lost in the narrow lanes in one moment and surprised by the majestic vista of a cityscape that lined with red-roofed houses in another.  
In the centre of the old city is the inviting Piazza del Campo. This is also the site for the fabled Palio horse race that occurs twice a year.  Ten horses randomly selected from the seventeen Contrade (neighbourhoods) raced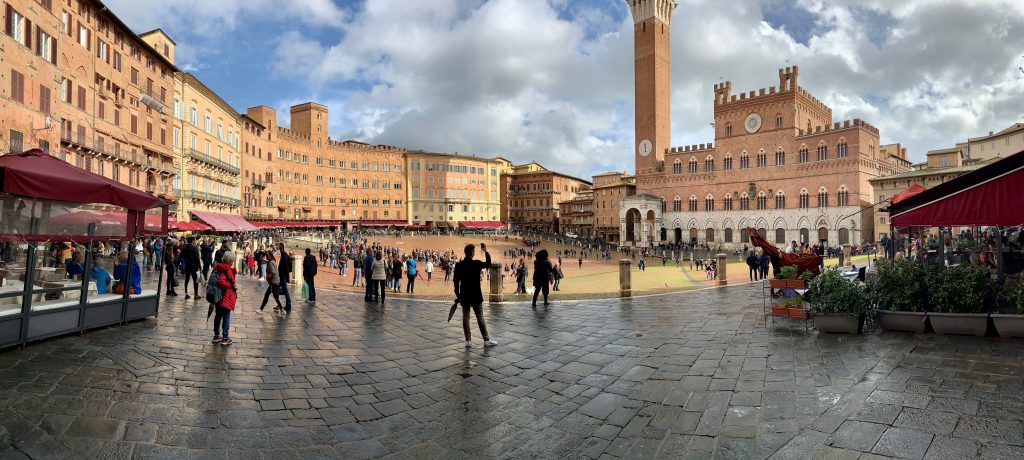 around a temporary oval track, on the inner rim of the Piazza del Campo to vie for the trophy: a Palio or banner bearing an image of the Virgin Mary.  On the day of my visit, the ground still soaked with the morning rain but the sun was fighting to make an appearance.  Standing in the centre of the piazza, I could imagine the galloping of horses, the roaring of the crowd, and the cheering of the winner.
While I was in Siena, I chanced upon Consorzio Agrario di Siena, a local supermarket with a tiny food counter that served up paninis and pizzas hot off the oven.  Squeezing myself amongst a group of hungry patrons, I devoted two heavenly slices of pizzas. With melting mozzarella cheese, creamy tomato sauce, some hams, and dotted with a few fresh basil leaves, they were the cheapest yet the best pizzas I had on this trip.  It was such a simple delight that I was reminded how easy we could experience the blessings of life.
After filling my stomach, I walked to the bus terminal to purchase a return ticket for Florence.  Figuring out how public transportation works in a foreign country often is a challenge. In this case, I was directed to Area B for the bus stop.  Alas, Area B was an elongated island with several signs for bus stops. There was a dozen of passengers waiting and there wasn't really a queue since nobody knew which was the correct loading spot.  People were milling around when a bus pulled into one side of the island. Just when the small group of passengers surged towards it, the bus took off and swung around to the other side of the island.  Like lemmings, the crowd hurried to the other side and boarded the bus. Sometimes, I find such inefficiency and disorder maddening. Yet, things always seem to work out fine at the end. Maybe it is I who need things to be orderly and efficient that need to learn to accept the natural flow of things.
Photo albums:  
---
---
European Travelog 2019-10-25     London: the 'lesser' sites of a familiar city
I lost track of how many times I have visited London, England.  Whenever possible, this is the city I begin or end my European travel because I find the city comfortable and civil. Comfortable because language is not an issue and the public transportation, although neither inexpensive nor modern, is very easy to navigate.  Civil because I have never experienced any scorn from the Londoners even though they have every right to be less than hospitable with the constant invasive horde of tourists. Another thing I enjoy about London, although it's true through the entire country, is its fabulous place names.  From Shoreditch to Brick Lane, from Spitalfields to Bethel Green, from White Chapel to Marble Arch, I just love reading and saying them.

Since I have visited most of the major sites in London in my previous trips, I have the luxury to wander off some of the "lesser" sites such as dropping in random churches, strolling along the Regent's Canal from King's Cross Station to Little Venice, having dinner with old friends at St. John's Woods, sauntering among the locals in the East End and spending a few hours in the National Portrait Gallery.  Speaking of the National Portrait Gallery, I love how it arranges all the artworks by chronological order. It is as if re-learning English history again: from Saxon, Norman, Plantagenet, Lancaster, York, Tudor, Stuart, Hanover, and finally Windsor (I hope I copied that down correctly).
One of the highlights of this visit to London was meeting up with three former students at three different venues.  One of them has called London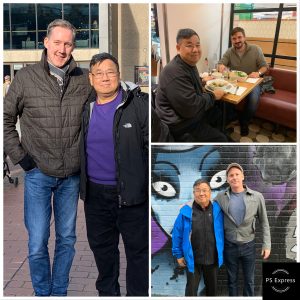 home for years and we met at a private club that he happens to be a founding member. The Club is non-descript from the outside but was buzzing like a beehive inside.  I was reminded not to take any photos inside the Club because celebrities are known to frequent there. My second meeting was with someone who has just moved here with his partner a couple of years ago.  He is working as a theatre director at a private school and we met at the Barbican Centre, which aptly is home to an art center. The third meeting was at a cafe in the Victoria Station. He was based in London temporary and  was on his way to the airport meeting his wife for an onward journey to Italy. I was just arriving in London via a train from Wolverhampton. It is always gratifying that former students are willing to take time out of their busy schedules to meet up.   And to connect thousands of kilometers away from our alma mater did feel a bit surreal but it didn't take long for the conversation to flow comfortably. 
There is nothing, and I mean nothing, that pleases a teacher in me more than seeing former students flourishing in their adult lives.  
Photo Albums: