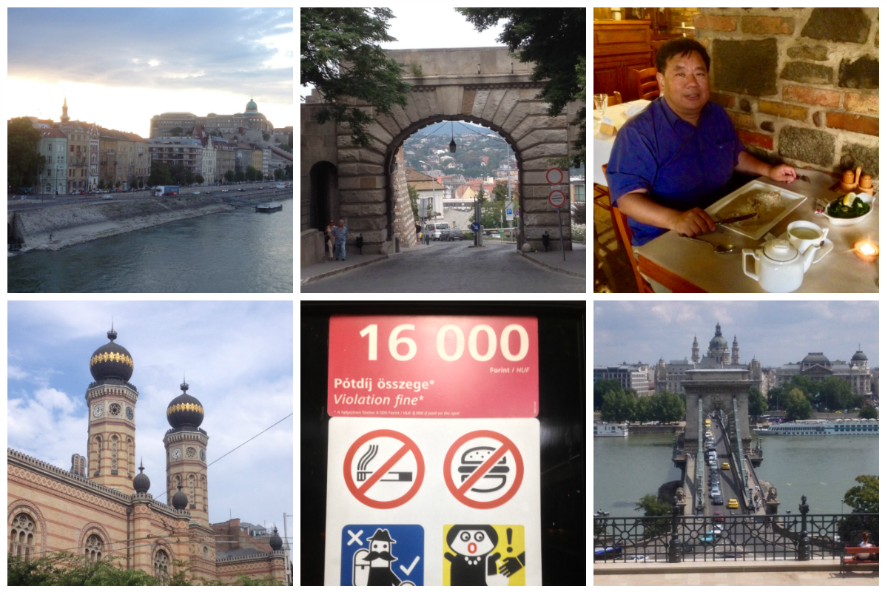 Budapest — I spent 5 days there and it was definitely the highlight of the tip. I posted the following on FB when I first arrived:
My first impression of Budapest has been very good. It is a large city but it feels very livable and vibrant. The architecture shows signs why this was one of the twin capitals of the Austria-Hungarian Empire. As usual, public transportation — local trains, subway, trams, and buses — is excellent. (Note, Toronto, if you want to be counted as a world city,  start with building a decent transit system.)
My hotel is on the Buda side, the hilly and quieter side but it's a short 10 minutes walk across the Danube River on the Elizabeth Bridge to get to the more youthful and lively Pest side. [photos]
I did three walks with Budapest Free Walking tours: Orientation, Communist, and Jewish Quarter.  They were led by young and energetic guides.  It's an interesting business model because they worked on tips only.  I have done a number of free waking tours in different European cities and they all been very good.  Highly recommended. [photos]
In additional to the free walks, I also used Rick Steves' Guidebook that offers a number of self-guided tours.  Since there were some overlaps with the free walks, I skipped part of them. His book on restaurant recommendations also came in handy.
I also went to The House of Terror.  The following was what I wrote on FB:
     Spent yesterday on learning more about the sad history of Hungary. It was the junior partner of the Austria-Hungarian Empire that was dissolved after WWI. It sided with the German in WWII and then it was 'liberated' by Russia and was forced to become a communist state.
During WWII, under the command of Hungarian and German Nazis, over 400,00 Jews were deported and exterminated in concentration camps. Elie Wiesel, the future Nobel Peace Prize winner was one of the deportees shipped to Auschwitz when he was 15.
In 1956, the country revolted against the communist rule but was crushed brutally when the Soviet sent in thousands of tanks. Like many post-communist countries, it's still dealing with many of its after effects.
The House of Terror is a museum and memorial for the victims of the Nazis and communism.
The last few photos show a controversial monument erected near the parliament. It's supposed to commemorate the oppression during the Nazi rules. Opponents are upset because the current government refuses to acknowledge the role the Hungarian Nazis and place all the blames on the German Nazis.
Two bookstores near The House of Terror were gems.  Irok Boltja (Writer Bookstore) used to be a Japanese coffee house and Lotz-terem (Lotz Hall)was a French department store.  I'd a great lunch at the stately cafe in Lotz Hall. [Photos]

I had purchased a SIM card for my phone from a tobacco stall.  With quite a bit of hand waving from both parties,  I'm pretty sure he sold me the wrong type.  It turned that I could phone or text quite a bit but only 50MB data a day.  Since I need a lot more data and have nobody to text or phone in Hungary, I took a trip to the West End City Mall to a T-Mobile stall to get it sorted out.  Visiting a mall turned out to be an enlightening experience because this was where the local shopped.  [Photos]
The food in Budapest was excellent and relatively inexpensive compared to Western Europe.  A really nice meal may cost $20-25.  [photos].  Alcohol is not expensive either. A good place to visit is the impressive Great Market Hall [photos]
A few things that I'd hope to do in Budapest but couldn't manage to fit in: visit the Hero Square, take a boat ride on the Danube, and go to one of the famous baths.  Maybe next time.
The following are photo albums I have created for Budapest.  Each album correspond to a day.
Day 1 — Arriving, a walk around

Váci utca

.
Day 2 — Orientation Walking Tour, bridges, St. Stephen's Church, Matthias Church, Buda Hill District.
Day 3 — W

alking tour on Andrássy út (Grand Avenue)

, House of Terror and Communist Walk,
Day 4 — Kelenfod Train Station, Grand Market, West City Mall, and Jewish District Walk
Day 5 — Spent my last morning re-visit of the Castle Hill District and spent more time at the Fishermen's Bastion.
Additional Resources:
21 Fun Things to Do in Budapest — 2017 via gettingstamped.com