I have been fortunate enough to be able to travel extensively. I posted this on Facebook at the end of my last trip to Asia this summer and I think it nicely sums up my feeling about travel:
     Getting ready for a very short sleep for my 3:15am wake up call for my journey home.  It has been a wonderful five weeks in Asia. As usual, I'm thankful for the opportunity and privilege to travel. And as usual, I am blessed with generous friends and family who opened their homes for me, chauffeured me in crazy traffic, and most importantly, made time for me.  And as usual, I met some interesting people, saw some amazing sites, and ate some delicious meals.  And finally, at the end of each trip, I always go back to what Pico Iyer wrote:

"We travel, initially, to lose ourselves; and we travel, next to find ourselves. We travel to open our hearts and eyes and learn more about the world than our newspapers will accommodate. We travel to bring what little we can, in our ignorance and knowledge, to those parts of the globe whose riches are differently dispersed. And we travel, in essence, to become young fools again- to slow time down and get taken in, and fall in love once more."
I created these pages after I gave a talk called Come 'Travel' With Me at my school's library.  Send me a message if you have any suggestions.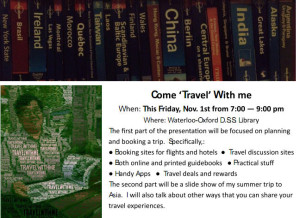 Happy Travel!                  Savio (Nov. 2013)